Helpful Hints & New Services
Top Stone Design Trends
A Note About Natural Markings
Right now, in our residential work, we're seeing people move back from contemporary to more traditional kitchens. They're choosing heavier woods with crown moulding. The most popular cabinets have overlay doors with detail, and we find many customers want the more traditional ogee edge on their countertops.
Rusty gold or rust-to-beige are very popular colors for granite. They're a good choice because they're warm in tone and much easier to design around than many other types of granite.
Commercial applications today tend to be much more contemporary than residential stone projects. White and gray marble is very popular in office buildings, for example.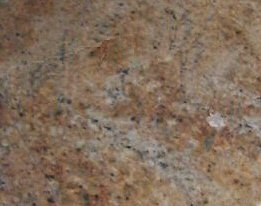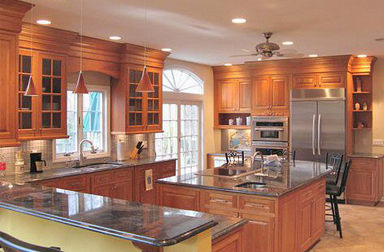 Part of the skill that a top fabricator brings to the creation of stone countertops is to plan the layout so that veining, color changes, and the most beautiful parts of the slab are shown to their best advantage.
Some slabs have small markings, such as the shiny white fleck of mica in the piece of granite, shown below. The mica reflects light when viewed at certain angles.
Think of markings in stone as you would graining or knots in wood. They're what distinguish natural from man-made materials.
>

27 Reith Street
Copiague, New York 11726
631.225.7360
© Copyright 2012. All Rights Reserved. No part of this site may be reproduced without written permission from Ital Marble and Granite Design Center. Website developed by JBA Media Group